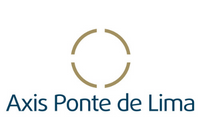 AXIS PONTE DE LIMA GOLF RESORT HOTEL
Rua do Sobreiro nº 346, 4990-620 Ponte de Lima
RNET 223
The Hotel with a privileged location
Ponte de Lima is the oldest village in Portugal and is located in the heart of Vale do Lima. An ideal destination for a memorable stay!
The cultural offer includes regional handicrafts, local pilgrimages, traditions and gastronomy itself.


In the heart of Minho, where the countryside and the sea, the green and the blue combine multiple contrasts and embrace the most traditional village in Portugal, with its distant customs and traditions that even time cannot forget, the Axis Ponte de Lima Golf Resort Hotel, with its serenity and beauty, is a space inspired by your well-being.

Modernity and comfort at this hotel in Ponte de Lima

Located on top of a hill, nestled in a green horizon, Axis Ponte de Lima, built in 2003, is a two-store building where each of the forty rooms distributed in it is comfortably equipped with air conditioning systems, satellite TV, Mini-bar, hairdryer and phone.

Ideal for golfers and those who enjoy outdoor activities, the hotel has 2 paddle tennis courts, a golf course, an indoor swimming pool, a fitness area and close by, there is a horse riding center and a canoeing club.

Enjoy the location and explore the surroundings on foot or by bike. Return to the hotel and use the Wellness Area, the swimming pool, the gym and Turkish bath. We have a transfer service. For more information contact the hotel.

Axis Ponte de Lima awaits you...